APA Style® Help
If you have a question about APA Style, we recommend that you check the following resources on the APA Style website first:
You can also reach the APA Style team on Twitter, Facebook, and Instagram.
If your question still has not been answered, please contact the APA Style Experts at StyleExpert@apa.org.
Please note that APA work hours are Monday–Friday, 8:30 a.m.–5 p.m. Eastern Time. We do our best to answer questions within 3 business days.
What is the most current version of the Publication Manual of the American Psychological Association?
Do you have a comment on APA Style or APA Style products?
Date created: October 2019
New! 7th Edition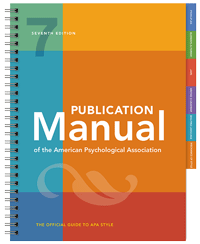 Buy Now
Available in multiple formats