Manual de Estilo de Publicaciones de la APA:
Versión Abreviada, 2a/Ed.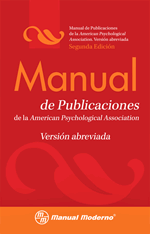 List Price: $34.95
Member/Affiliate Price: $26.21
Copyright: 2010
Format:
Softcover (Spanish)
Availability: In Stock
For sale in the United States only.
For sales outside the United States, visit the Spanish publisher's website or contact
C.P. Lina Roa
Phone: (52-55) 5265 11 32
Email
Overview
This is the Spanish language adaptation of Concise Rules of APA Style, Sixth Edition.
The Concise Rules of APA Style, Sixth Edition offers essential writing and formatting standards for students, teachers, researchers, and clinicians in the social and behavioral sciences. This easy-to-use pocket guide, compiled from the sixth edition of the Publication Manual of the American Psychological Association®, provides complete guidance on the rules of style that are critical for clear communication.
Table of Contents
Introduction: A Pocket Reference for Writers
Concise and Bias-Free Writing
Punctuation, Spelling, and Capitalization
Italicizing and Abbreviating
Numbers, Metrication, and Statistics
Displaying Results
Footnotes, Appendices, and Supplemental Material
Crediting Sources
Reference Examples
Appendix: Checklist for Manuscript Submission
References
Index